BALLS™ Ultimate Package
A powerhouse trio: this is the ultimate in ball-scaping. We're talking about our bestselling BALLS™ Trimmer, a pair of SackSafe™ Blades to keep you going and our specially formulated BALLS™ Lotion for the freshest of grooming aftercare.
Free Shipping 🇨🇦
Discreet Packaging
---
Refresh and so clean (clean).
This is no ordinary body wash. Super refreshing and skin conditioning formula invigorates, deodorizes and nourishes to help keep you running in tip-top shape.
PERFORMANCE & EXPERIENCE MATTER
Lather-up like
a grown-up
Nourishing body wash provides a conditioning lather that whisks away dirt, oil, and sweat. Invigorating menthol and eucalyptus, energizing ginseng, and deodorizing witch hazel help bring the clean wherever you go. Coconut oil and vitamin E and vitamin B5 hydrate, soothe and moisturize.
Customer Reviews
06/05/2020
Alex C.
United Kingdom
I recommend this product
An other worldly experience.
Being in my early 20's I find that the unwelcoming visit of body hair (mostly my impressive muscular chest area) is becoming far too common. Alongside keeping my under carriage as smooth as a tinder pick up line, it was becoming quite a chore. HOWEVER as if brought down from some spaceship that Will Smith himself had just destroyed, the BALLS Trimmer had literally removed that of my hairy situation. The Trimmer literally glided across my skin with ease like a pro, almost as if it was sentient. Not one single snag or cut (could I believe my eyes?...Yes I could) by far one if the best electric razors I have ever used, and one in which was cheaper than the luxury jock strap I use to cradle my jewels. Would highly recommend for those hoping to have the confidence to wow your audience with a smooth presented meat fest that won't disappoint.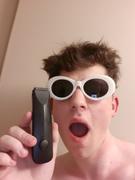 06/04/2020
Shaun M.
United Kingdom
I recommend this product
The shorter the grass, the taller the tree ;)
Delivery was a bit longer, but was kept up to date about it (was still quite quick.) Funky packaging. Shaver is comfortable to handle. Have braved one shave with no guard on the sack and after using it for 20 ish mins, only had one slight pinch (didn't break the skin) but that was probably my technique as I forgot to keep skin taught. Used a guard for the 'jungle canopy' layer and it was perfect and easy to use.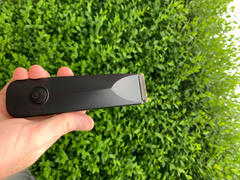 05/01/2020
Ben S.
United Kingdom
I recommend this product
Smoothest Gooch in the North West
Just sat down on the bog and whipped out this bad boy like a pistol-whipping cowboy mid-showdown. Excited is an understatement . I never thought I'd ever be able to run my forefinger (sniff it afterwards of course) along my gooch and feel the resemblance of a granite kitchen worktop. Smooth and clean. Took around 10 mins to give my entire nether regions the best shave they've seen in roughly 8 years. I'd say it would be half that if it wasn't for my Tyrannosaurus Rex-esque cobblers. 10/10 recommend to any man, woman, bit of both, cat, dog, platypus. Whatever you identify as, this is the one for you.
03/31/2020
Rory F.
United Kingdom
I recommend this product
I'm a new man
Unbelievably amazing, I was sceptical about using it at first because it's a trimmer and I'd only had experience with scissors. I went straight in with it looking like a overgrown jungle, 15 minutes later i came out the bathroom feeling like a new man. Easy to use product, the waterproof feature is a life saver. Definitely recommend.
03/31/2020
Stephen M.
United Kingdom
I recommend this product
My best mate had to buy a pair,
After receiving my balls razor I quickly had to use it to see if it was as good as they said! After I was very Impressed, I quickly told my best pal about how good they're and showed him (the razor not my balls) I left at his house by accident (again, the razor, I do not have detachable ball) and a few days later I recurved the filling text: Mush that balls trimmer is the nuts (pun intended) where you get it from my balls feel like they did pre puberty The dirty ****** had used them, he also immediately ordered some. Very good piece of pruning equipment, highly recommend